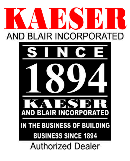 Rush
Order Placement
Order must be relieved by 10:00 a.m. central standard time.

1, 2, or 3 working production days.
Artwork
Shipping
Shipping is not included in item price.

Supply in-hands date.

Shipping will be charged to your credit card at time of the shipment. Order will be shipped by the cheapest method to meet your in-hands date.
NOTICE:
Expedited shipping (by Air, UPS, Fed Ex and all other charges) of large items such as mugs are more expensive to ship because charges are based on dimentional weight rather than actual weight. We can only guarantee the date your items are shipped out, and cannot be held responsible for delays caused by the carriers.